Wing, Chairman and CEO of Nexperia, shares development strategies with EMT
2022-11-30
In the afternoon of November 30, Wingtech Technology (SH 600745) held an online roadshow of performance briefing for Q3, 2022. Xuezheng Zhang(Wing), the chairman and CEO of Wingtech, Jianhua Xiao, independent director of Wingtech, Haicheng Zeng, the CFO of Wingtech, and Yu Gao, board secretary of Wingtech attended the meeting online. The EMT of Nexperia also appeared in the form of online videos. Wing explained the development strategy in detail with the EMT, and shared important information such as operation management, strategic planning, research and development investment.

Selected contents of development strategies
From the EMT of Nexperia
I'm Wing, Chairman and CEO of Nexperia since 2020. In April this year I came on-site to support Nexperia.
In the past few months I focused on four actions based on the 10 billion ambition. Firstly, I set out a new Deep dive model. The second is, I decided to increase the investment into OPEX to develop new technology platforms and products. Thirdly, I increased more than 400 million U.S. dollars into CAPEX to support capacity expansion allocation. Last thing is investing in more resources in automotive and industry areas.
Over the last five years, the company has developed industry leading manufacturing capabilities that are fully aligned with the highest automotive standards while also offering a comprehensive product portfolio.
The development of our company since its inception has been truly remarkable. We have a track record of outperforming the market. Our strong performance in the first half of 2022 helped us to keep a stable market share of approximately 10%. This year we again invested record levels of money into CAPEX. This includes strong investments in new capacities and capabilities worldwide across our European front end facilities and test and assembly facilities in Asia.
SVP Sales & Marketing and General Manager of Nexperia
Thanks to that electrification and autonomous driving and especially in electric vehicle. Nexperia has a very strong growth rate in 2021 in high forties percentage. Next year we'll continue this strong growth rate. Nexperia is expanding its current product portfolio to address a broader market segment. This will allow Nexperia to build a strong position in the industrial segment as well.
General Manager BG MOS Discretes of Nexperia
We are investing in gallium nitride. We are bringing products to the market and Nexperia will contribute in being more responsible in energy consumption through the use of gallium nitride.
BG MOS Discretes consist of four product groups. The largest one is Automotive MOS. Then we have the group for Small Signal MOS, for non-automotive power MOS, and also the emerging group of gallium nitride. We are based all over the globe. Headquartered in Manchester, England, we also have branches in many international mainstream cities, such as Hamburg, Wales, Shanghai and India. We will continue to expand in the future.
General Manager BG Bipolar Discretes of Nexperia

2022 was a very good year till so far. Whereas we further outgrown the market, we further strengthened our leading positions in all the areas where we are active in. We definitely have grown, year over year on revenue and on margin profile. And also we've made very good progress on all the strategic initiatives we are driving. And one of the major highlights on that one is our extension into R&D. We are fully on track to scale up our R&D teams, which was 30%, which are again mainly focusing on the new technology areas like the power needs and so on to really make an impact on our next generation technology.
General Manager BG Analog & Logic ICs of Nexperia

BG A&L strategy is quite simple. First, we'll continue to build on our foundation of logic with a goal to reach our number one position worldwide. Second, we'll shift our investment focus to the higher margin analog and power management segments. This will help fuel our goals to reach our long-term growth goal. Lastly, we'll deliver a complete portfolio solution that offer differentiation to customers and help position Nexperia to be in a leadership position in the markets that we serve. With Mr. Wing's strong support, we've been able to grow the BG A&L R&D organization by roughly 300%, and adding new design centers in various regions of the world.
General Manager BG Power- & Signal Conversion of Nexperia
This new business is actually very new and was formed in late 2021. And this business is said to be the leading strength in the Analog product space, including Power and Signal condition ICs, in the market space of automotive, consumer including mobile and also industrial. And through this business we will deliver advanced Analog ICs to the markets. This year we've opened three facilities in R&D. This demonstrates Nexperia's commitment in R&D investment and also will strengthen our portfolio in Analog ICs, including power management and also signal conditioning ICs. Now the products through this R&D activity is going to also reinforce our branding the build up through our existing portfolio.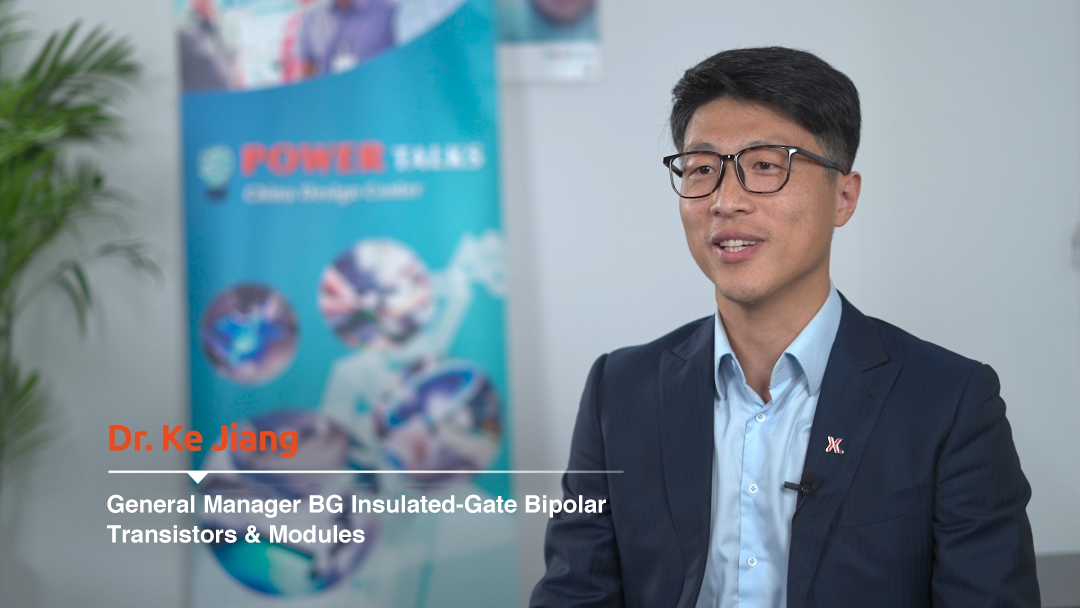 General Manager BG Insulated-Gate Bipolar Transistors & Modules of Nexperia
My business group is focusing on capturing the opportunity opened up by decarbonization and green energy. So, in order to shape a better future green energy is very, very important. Having the solar power, wind power and other decarbonization technology is very important to shape awards winning to living better future. Nowadays, we have built a very capable team and we have increased our R&D investment in Shanghai. So far we have achieved a number of successful tape outs and that we will lay out a very solid foundation for our future growth.
Wingtech 2022 Q3 Performance Briefing
Interactive Q&A
Q:Considering that BYD showed strong export growth of the new energy vehicles in oversea markets and became a dark horse. With the rapid growth of new energy vehicles in China this year, what are the advantages for the development of vehicle gauge devices?
A:Dear investors! The number of semiconductor devices used in the power system of an electric vehicle is 3-5 times that of a traditional internal combustion engine vehicle, which increase the growth space for automotive power devices. Nexperia has a wide range of automobile customers, including not only traditional fuel vehicles, but also new energy automobile customers, such as Tesla, BYD, etc. The long-term cooperation relationship and extensive cooperation system with automobile customers will help Nexperia to continue to make efforts in the field of new energy vehicles by virtue of the advantages of its products, and improve the single car application part number and single car value of customers.
Benefiting from the growth trend of demand for power devices from automobiles, especially the electrification and automatic driving technology of electric vehicles, in the first three quarters of 2022, the company's semiconductor business realized an operating revenue of 11.948 billion yuan, a year-on-year increase of 17.44%, a gross profit margin of 42.7%, a net profit of 2.736 billion yuan, a year-on-year increase of 34.80%. In Q3,2022, the revenue and profit of Nexperia achieved both year-on-year and month on month growth.
---
Q:I understand that science and technology enterprises attach importance to R&D. I personally don't agree with people who doubt that Nexperia already has so many classic products but still pay attention to R&D investment. We should take a long-term view and not turn tech firms into a pure labor industry. I expect that Nexperia can introduce more about the investment direction and goals of R&D investment to investors.
A:Dear investors! At present, the main products of Nexperia include diode, MOSFET, logic and other product combinations. The quality of Nexperia's car gauge products is outstanding, which maintains the first or second position in the industry in many fields. Nexperia's products are widely used in various electronic products, such as automobiles, mobile phones, computing devices, consumer electronics, mobile devices, etc. At present, Nexperia's products are transitioning from mass production to " developing more products with differentiation, uniqueness and combination characteristics". Nexperia leading technology platform will create a number of benchmark products for Nexperia's product portfolio.
In order to improve product output and technical capacity, Nexperia is expanding its staff through a large amount of investment. Nexperia's investment in R&D has reached new heights. Compared with 2021, Nexperia has increased its R&D investment in 2022. In the medium and long term, the company's R&D investment in semiconductors will gradually increase to 15% of semiconductor revenue, which will be equal to that of international business competitors. It will be helpful for Nexperia to achieve differentiation by virtue of its innovative product portfolio.
From the perspective of R&D, the company's semiconductor business mainly focuses on the technical opportunities brought by carbon emission reduction and green energy, and pays more attention to power devices to enhance and expand the semiconductor product portfolio and provide more complex high-power products, such as SIC, MOSFET, IGBT and power modules. In addition, Nexperia is also expanding analog IC and system level packaging solutions. Achieving profitable and innovative growth is the focus of Nexperia's work. This will help Nexperia become a leader in the market field it is involved in. It also hopes that relevant technologies can have a profound impact on the future, benefit the society and even the world, and create a better and greener world.
---
Q:In addition to the car regulation products, do you think there is room for growth in other fields of Nexperia's products?
A:Dear investors! Today's semiconductor industry is affected by many major trends, such as connectivity and digitization, electrification, industry 4.0 and automation, sustainable development and energy efficiency. These trends and strong demand for semiconductor devices in the market, provide a good opportunity for Nexperia and accelerate its development in various market areas.
---
Media Contact
Ms. Zhang, PR manager
Tel: 15626514513
E-mail: pr@wingtech.com