Keep rising! Nexperia ranks 5th in the world and 1st in China
2023-03-06
On March 1, ICWISE released the "China Power Discrete Devices Market Annual Report 2023". Nexperia, a subsidiary of Wingtech Technology, ranked 5th in the ranking of the top 20 global power discrete device companies in 2022, up one place from 2021, and ranked 1st in China.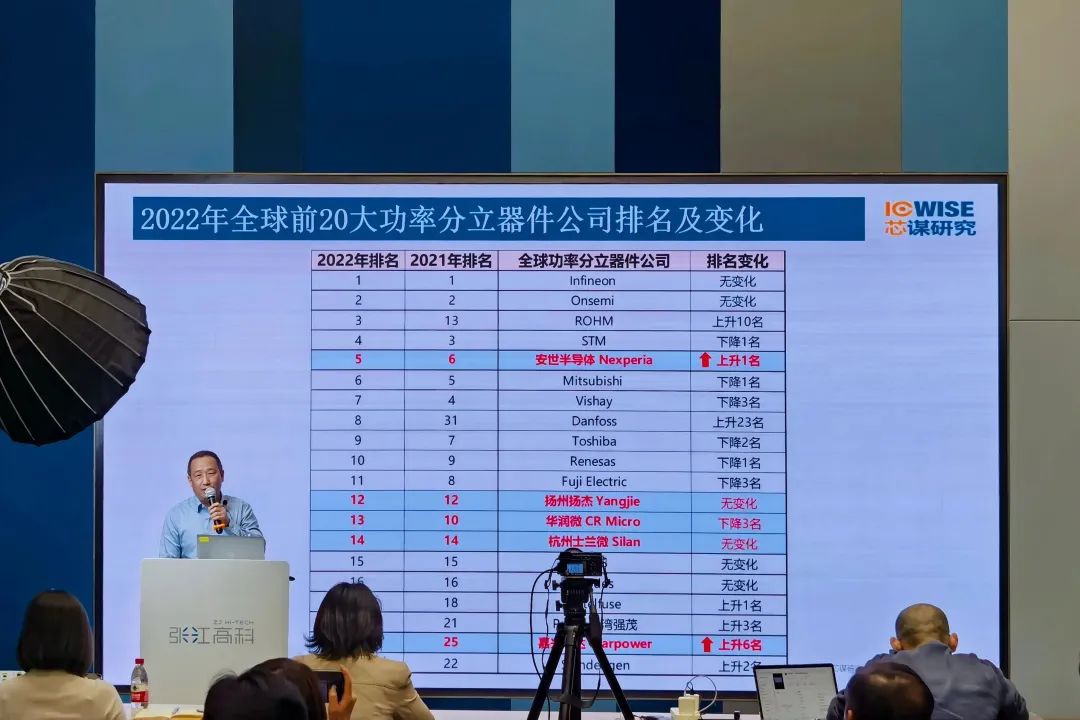 "China Power Discrete Devices Market Annual Report 2023" release site
According to the development trend of global power discrete devices, Guoqiang Li, director of ICWISE, analyzed that the global power discrete device market rose 19.2% in 2022, mainly because the growth in global demand for new energy vehicles has promoted the rapid growth of automotive electronics. Therefore, despite the decline in market demand for consumer electronics such as PCs and mobile phones, global power discrete devices still achieved a growth rate of 19.2%. There will still be a slight growth in the next two years.
The report released the revenue ranking of the world's top 20 power discrete device companies in 2022. The report shows that Infineon and ON Semiconductor are still the top two manufacturers in the world. It is worth noting that five China's companies have entered the top 20 in the world. Nexperia is the largest Chinese company that ranked fifth in the world. Nexperia's revenue in the automotive field accounted for a large proportion. Thanks to the sharp increase in demand for automotive electronics in 2022, the overall revenue of Nexperia has shown a rapid increase.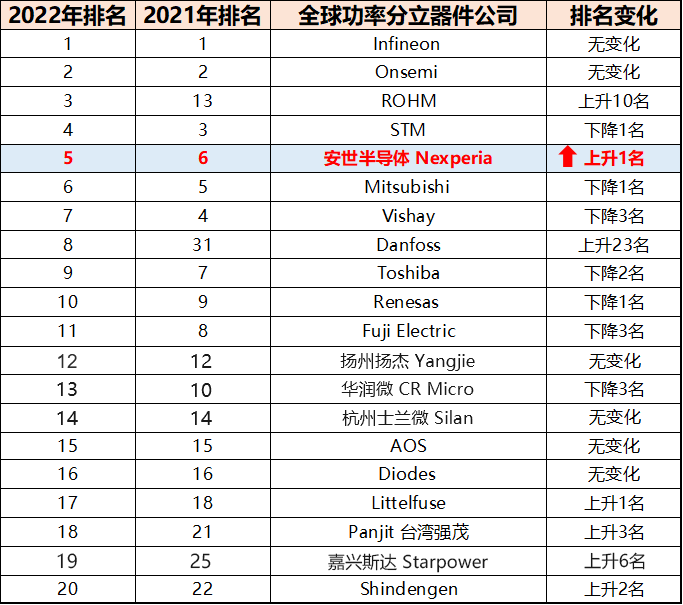 Global Power Discrete Company Ranking Source: ICWISE
On the same day, Paul Zhang, SVP Sales & Marketing and General Manager of Nexperia, was invited as the keynote speaker at the 14th " I Say IC" Industry Salon jointly hosted by Zhangjiang Hi-Tech and ICWISE.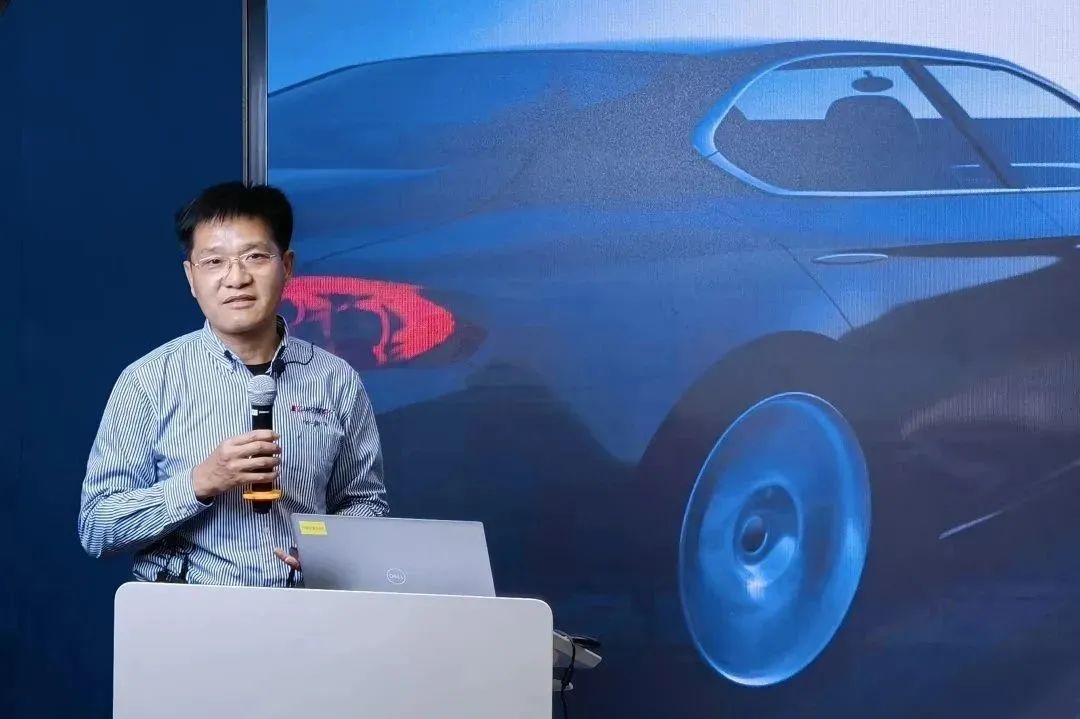 Paul Zhang, SVP Sales & Marketing and General Manager of Nexperia
Paul Zhang said that in the past few years, Nexperia's automotive business has grown rapidly, and the growth rate has exceeded the overall growth rate of the automotive semiconductor market. At present, an average of about 560 chips from Nexperia are used in every new car (including fuel cars and new energy vehicles). He believes that there are four aspects to build a moat for automotive-grade chips: first, strong innovation and R&D capabilities; second, the ability to provide high-quality, high-reliability products; third, be an international player facing the global market with global layout; fourth, having high-efficiency manufacturing line.
In the in-depth conversation, Paul Zhang added that there is a certain threshold for the automotive qualified chips. Nexperia has achieved the present Nexperia after years of continuous improvement and integration of various links based on the above four aspects.
Paul Zhang said that the new energy vehicle market is developing rapidly and tends to surpass traditional fuel vehicles, which means that more chips will be used. The number of semiconductors used in a new energy vehicle is at least three times that of traditional fuel vehicles. The automotive industry is experiencing the four major development directions of autonomous, connectivity, electrification, and sharing. Nexperia mainly focuses on the first three directions.
Paul Zhang believes that Nexperia has strong confidence in the automotive semiconductor market. At present, Nexperia has more than 15,000 categories of products, more than 90% of which are automative grade products. Nexperia also introduces 800 new products every year. Nexperia has 25,000 customers worldwide and maintains close cooperation with major Tier1 and vehicle manufacturers. Nexperia also continues to increase research and development in high-voltage MOS, IGBT, SiC, GaN and other fields while iteratively upgrading the old products.
In addition, Paul Zhang emphasized that the guarantee and stability of capacity is an important factor for automotive semiconductor companies to maintain growth. Nexperia has strong capacity support. It also continues to expand its capacity according to market demand, while continuously improving the energy efficiency of existing products.
He believes that the newly formulated long-term development strategy will help Nexperia to grow rapidly and achieve the ambitious goal of reaching US$10 billion in revenue by 2030.
---
Media Contact
Ms.Zhang,PR manager

Tel:15626514513
E-mail:pr@wingtech.com