2022 WingTech-Nexperia Shanghai Elite 10k race
2022-09-22
Officially announced! 2022 Wingtech-Nexperia Shanghai Elite 10K Race is coming
Time and Place
The event will be held at 7:30a.m.
November 6 (Sunday)
Changfeng Area, Putuo District
Events
10K race (4000 Participants)
Routes
10km Run
Starting point:Guangfu West Road (Yinghua International Plaza)
Ending point: Yunling East Road (Shanghai Convention & Exhibiton Center of International Sourcing)
Passing through Guangfu West Road, Daduhe Road,Zaoyang Road, Yunling East road, Zhenbei Road,Changfeng Park,etc.
Note: the detailed routes are subject to the route map published before the race.
Meet at the starting line of 10K as promised
To protect everyone's health and safety
Epidemic prevention and control requires the cooperation of every runner
Face information collection will take place during the pre-registration phase
To ensure the accuracy of the entry information
Runners who register for the race using their ID card
Face information collection can be carried out during the pre-registration stage
Runners who completed the collection of face information last year do not need to repeat the collection
You can enter the registration process directly
Runners who successfully completed the collection of face information
You do not need to bring your original ID on the day of the event
Quick entry is possible by brushing your face~
Before you collect your equipment
Runners must get on the Horse App
Book a time in advance for equipment collection
All runners must submit it on the day of the pick-up
A negative nucleic acid test report 48 hours before receiving equipment
and the "Health and Safety Responsibility Commitment Letter" signed and confirmed by me
After passing temperature measurement, identification and health code verification
to collect equipment
All runners are required on the day of the race
A negative nucleic acid test report was made 24 hours before the race
to enter the event site
Free nucleic acid testing services will be provided at the equipment collection site on November 5
Runners who come to collect their equipment on the same day can perform nucleic acid tests on the spot
to ensure a valid 24-hour pre-race nucleic acid report on November 6
Ben Ben here is a special reminder
Runners who come to collect their equipment before November 4th
Remember to complete the nucleic acid test on November 5th!

This year ASICS will be the first presentation sponsor this year
Join hands with Shanghai 10km Classic
Provide runners with both professional and practical equipment
The race backpack and quick-drying T-shirt are in dark green as the main color
Running with a hand-painted villain
Breaking through the streamlined ribbon of abstraction from a Shanghai landmark is the core of the design
I hope to inject upward vitality into the city with the momentum of breaking the speed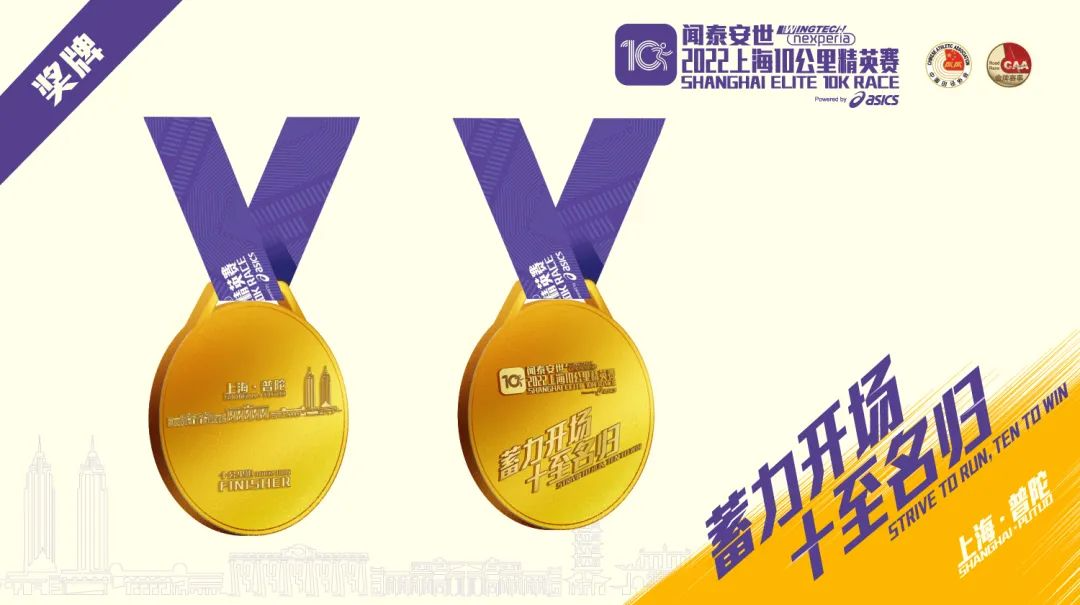 The medal was designed with the slogan of the 10km Classic
Echoes the elements of Putuo's landmark architecture
The texture of the gold sand bottom is even more elegant and chic
"Charge up, ten to deserve"
It will become the most powerful witness for everyone to break through themselves

From 15:00 on September 22 to 12:00 on September 26
Log in to the official website of Shangma www.shang-ma.com or the Shangma APP
Choose the 2022 Wingtai Classic Shanghai 10km Classic
Pay the registration fee of 100 yuan / person to complete the pre-registration
The results of the draw will be announced on the afternoon of September 28
The payment time is from the announcement of the lottery results until 17:00 on September 30
All runners who win the lottery must complete the payment by the specified time
Otherwise, it will be regarded as a waiver of the quota